The COVID-19 pandemic has led many of us to find new ways to stay connected as public health measures around the globe recommend we limit or modify in-person activities to reduce exposure to the virus and help contain its spread. Technology has changed the way, if only temporarily, how we meet, educate, celebrate, mourn, and entertain.
New platforms and apps are being developed every day and this vast and rapidly evolving tech landscape can be daunting. And while there are many wonderful benefits to technology, some people may misuse it to harm others.
In this increasingly digital age, NCALL is pleased to offer our newly revised toolkit, Tech Safety + Older Adults, aimed at helping older adults identify ways to safeguard themselves from those who misuse technology to control, harass, stalk, threaten, and/or defraud them. This resource expands upon a series of handouts we first released in 2014. The new guide was developed with input from the Safety Net Project of the National Network to End Domestic Violence and now includes the following sections:
Technology and Abuse in Later Life: an overview of ways abusers might misuse technologies to cause harm to their victims.
Tech Tips for Older Adults: Tech Safety: a general overview of computer, cell phone, and internet safety
Tech Tips for Older Adults: Online Privacy & Safety: an overview of the importance of online privacy and strategies for maintaining privacy and safety online
Assistive Technology: an overview of assistive technology
Assistive Technology and Abuse in Later Life: a general overview of the ways abusers might misuse assistive technologies to cause harm to their victims
Tech Scams: an overview of some commonly encountered scams in the United States targeting older adults
Frequently Used Tech Terms: a broad overview of commonly used technology terms and concepts, including many of the key terms used throughout the resource.
Resources
A full-color version and printer-friendly version are available now on NCALL's website. Find them by visiting the NCALL Publications Library, then clicking on the Technology link, or by using the quick links below.
Quick Links
---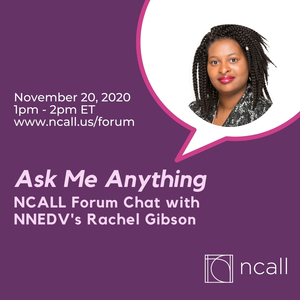 Don't forget! To commemorate the release of this new resource, NCALL is hosting a virtual chat on November 20 on the NCALL Older Victims of Crime Trainers and Educators Forum with NCALL staff and NNEDV Senior Technology Safety Specialist, Rachel Gibson.
Submit questions ahead of the chat by emailing OlderVictimsForum@ncall.us. Log on during the chat to connect with Rachel and see her answers!